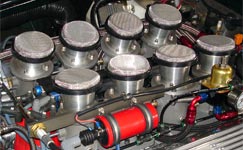 Air Filters for Velocity Stack Air Horns
These super-low-profile filters go where other filters can't! They slip over the end of your air horns and require less than one inch of clearance from the end of the horn. Ideal for vehicles without enough room for a K & N or ITG filter. The unique stainless steel screen and mesh construction keeps out smaller particles than screen alone, yet flows better than conventional air cleaners. Not recommended for use in very dusty or sandy environments. The size listed refers to the outside diameter of the air horn bell (the largest OD).

Many thanks to our good customer P.K. for sending us a picture of the Velocity Stack Filters installed on his Hilborn Fuel Injected 427 Ford engine. (Which produces nearly 600 HP at 5,750 rpm!) P.K. wrote us to say: "The stack filters fit great and they are made well...just what I've been looking for. Thanks!"

Note: These filters are designed for conventional air horns and velocity stacks such as our Part No. 3892. They will not fit "full radius" style air horns such as our Part No. 3893.