Enter desired order quantities below, then click the "Add selected quantities to cart" button.
Thermostatic Oil Control - 1/2 Tube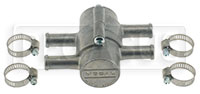 Overly cooled oil robs an engine of power and can lead to increased wear and sludge formation. An oil thermostat allows the oil to bypass the cooler until proper temperature is reached. This model has push-on fittings for 1/2" ID rubber hose. It has relatively low flow capacity and is recommended for low capacity oil systems such as motorcycles or transmissions. The thermostat opens at 180°F/82°C +/-10°F or +/-3°C.

We also offer Oil Thermostats with Female NPT Ports (Part No. 1228-Size), which has larger internal passages for greater flow capacity.
For the greatest flow capacity, we offer Oil Thermostats with Male AN Fittings (Part No. 1226-Size), which have much larger internal passages.