Enter desired order quantities below, then click the "Add selected quantities to cart" button.
MSD RPM Module Selector for Part #'s 1345 & 1321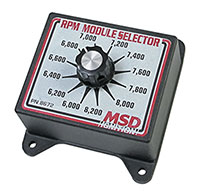 Leave your MSD RPM pills at home and change your rev limit on the fly with a twist of a dial! The MSD RPM Module Selector gives you a choice of 12 different RPM settings (200 RPM increments) in one unit. Replaces the RPM pill in MSD rev limiters including the MSD Soft Touch Rev Control (Part No. 1345) and the MSD 6AL Ignition Module with Rev Control (Part No. 1321).