Enter desired order quantities below, then click the "Add selected quantities to cart" button.
Red Line Synthetic Automatic Transmission Fluid (ATF)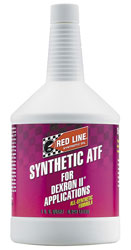 Red Line Synthetic ATF is a certified Dexron II, Mercon, and Mercedes-Benz 236.8 fluid. Superior stability allows high temperature operation while protecting valves and clutches from varnish which causes slippage. Better low temperature flow also improves cold shifting. Provides excellent protection for gears and other wear surfaces.


Red Line Synthetic ATF
Viscosity
@ 100° C
Viscosity
@ 40° C
Viscosity
Index
Brookfield Viscosity
@ -40° C
Pour
Point
Flash
Point
7.2 cSt
32.5 cSt
197
45 P
-51° C (-60° F)
224° C (435° F)