Enter desired order quantities below, then click the "Add selected quantities to cart" button.
Hardware for Lifeline Pull Cables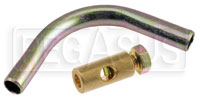 These hardware items are designed for Lifeline brand fire system pull cables, but they can be used with some other manufacturers' cables as well.
The 90 Degree End is used to guide and support a cable (maximum outside diameter 5/32") through a 90 degree bend with a 3/4" radius.
The End Stop Clamp is a barrel clamp designed to fit a 1/16" diameter inner cable. It is perfect for connecting two cables, or making a loop in the end of a cable. The barrel measures 0.36" long x 0.24" OD.