Enter desired order quantities below, then click the "Add selected quantities to cart" button.
Nomex Underwear Top, Long Sleeve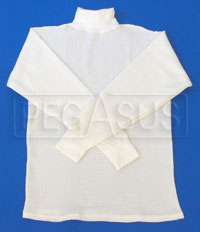 WEB SPECIAL - SAVE $10.00 - Only $79.99 for a limited time (regularly $89.99)

Nomex® undergarments provide a dramatic increase in protection when worn with a driver's suit. Flame resistant underwear and socks are required by race sanctioning bodies. Our Nomex® underwear is a comfortable single layer soft weave fabric. Top features long sleeves and a short (one-fold) turtleneck.

Nomex Top Sizing Chart
Order
Size
Chest
Size
Small
36-39"
Medium
40-43"
XLarge
49-53"