Enter desired order quantities below, then click the "Add selected quantities to cart" button.
OMP Sport Line Nomex Socks, SFI 3.3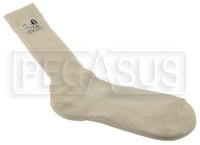 Fire-retardant socks provide a dramatic increase in protection against critical burns to the feet. Flame resistant socks are required by many racing organizations. The OMP Sport Nomex socks are a mid-calf length and carry SFI 3.3 approval.

OMP Nomex Socks Sizing Chart
Sock
Size
Shoe
Size
Small
5 1/2 - 8
Medium
8 - 10
Large
10-13


We also offer matching OMP Sport Nomex Underwear Long Sleeve Tops (Part No. 2153-010) and OMP Sport Nomex Underwear Bottoms (Part No. 2153-011).