Enter desired order quantities below, then click the "Add selected quantities to cart" button.
Simpson MTO22 Custom-Made Gabardine Nomex III Suit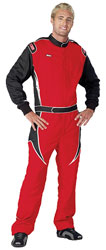 This item qualifies for FREE Shipping in the continental United States!
The Simpson MTO.22 two layer custom suit is available in Gabardine Nomex® III, with a matte, non-shiny finish. Woven fabric with a limited stretch and a starched feel.

Available in Red, Orange, White, Yellow, Black, Blue, Gray, Pink, Navy, Purple, Dark Green, and Light Green. (Photograph shows one-of-a-kind design.)

Simply download the Simpson Custom Suit Order Form from our Technical Info section, fill it out, and fax it to us at 800-742-0484.



Simpson Custom Suit Order Form