Enter desired order quantities below, then click the "Add selected quantities to cart" button.
Piloti Stradale CL Touring Shoes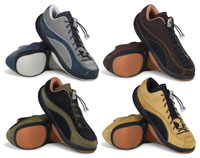 The Stradale CL was developed with a single concept in mind: To provide driving enthusiasts with a shoe that includes all the performance characteristics of a driving shoe yet is comfortable and stylish enough to be worn at the office or strolling the Concours d' Elegance.

The Stradale CL's innovative design features premium leathers and suedes, adding a richness to the upper that compliments the compound surfaces. The foundation of this shoe is the same high-performance sole with patented Roll Control™ heel technology that brought Piloti to the attention of professional drivers and car culture enthusiasts around the world. The Stradale CL also includes a unique toggle lacing system that provides secure comfort and extreme ease-of-use. Available in Blue/Grey, Olive/Black, Brown/Black, and Tan/Black.

While supplies last! The sizes and colors listed below are the last available -- don't wait!