Enter desired order quantities below, then click the "Add selected quantities to cart" button.
Bell Helmet Shield for M2 SA90 (.080" thick)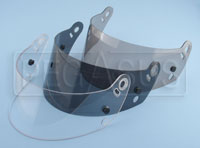 This shield fits the Bell M2 and Sport II Forced Air helmets (Snell 1990 rating only). Bell Reference #253A.

Note: The thinner .080" shields are no longer made by Bell. They are being replaced by the thicker .125" Thick Bell Helmet Shield, Part #2272, Bell Reference #253B.