Enter desired order quantities below, then click the "Add selected quantities to cart" button.
Bell Vortex GT Helmet, Snell SAH2010 Approved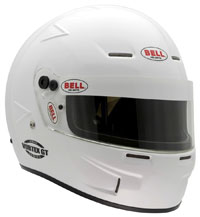 This item qualifies for FREE Shipping in the continental United States!
The Vortex.GT is a lightweight helmet from the Bell Pro Series that delivers great performance at high speeds. Vortex generators molded into the sides of the composite shell combat wind buffeting, while chin and forehead vents provide fresh air to the driver. Certified for use with HANS® Devices, with threaded inserts for HANS® anchors factory-installed (anchors sold separately). Available in white or matte black. Snell SAH2010 rated.

The SAH2010 rating is the latest Snell Foundation rating for automotive racing helmets. This helmet rating has been developed to provide the best safety protection for auto racing drivers who are restrained in their vehicles, with additional tests to ensure compatibility with HANS® Devices. An SA-rated helmet may not meet DOT specifications for street use, such as on motorcycles.

SIZING: Helmets should fit as snug as possible without causing discomfort. Measure head circumference around the largest part of the head approximately one inch above the eyebrows and just above the ears. If a one or two layer Nomex hood will be worn with the helmet, it should be worn when measuring head circumference. If a hood is not available, add about 1/4 inch to the circumference measurement for a single layer hood and 1/2 inch for a double layer hood.

Bell Vortex.GT Sizing Chart
Inches
22 3/8
22 3/4
23 1/8
23 1/2
23 7/8
24 1/4
Cm
57
58
59
60
61
62
Size
7 1/8
7 1/4
7 3/8
7 1/2
7 5/8
7 3/4

The Vortex GT takes the Bell 276SRV Helmet Shield (Part No. 2312-004). One clear shield with a matching visor strip (white for white helmets, black for matte black) is included with the helmet.

While supplies last! Bell has stopped production of this very popular helmet. The sizes shown are the last available. Don't miss out on a great Pro Series helmet!