Enter desired order quantities below, then click the "Add selected quantities to cart" button.
Simpson Speedway Shark Helmet, Snell SA2010 Approved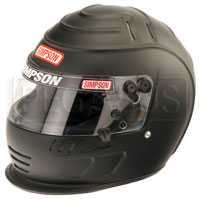 This item qualifies for FREE Shipping in the continental United States!
The Speedway VUDO has been extensively redesigned for the SA2010 generation. Aggressive ribs molded into the top of the shell improve aerodynamic stability. The new chin bar eliminates the tacked-on "wicker bill" and has scallops molded into the sides for a unique look. Available in White, Black, or Flat Black. Includes helmet bag, one clear face shield, and one dark smoke tinted face shield. Snell SA2010 rated.

The Snell SA helmet rating has been developed to provide the best safety protection for auto racing drivers who are restrained in their vehicles. An SA rated helmet may not meet DOT specifications for street use, such as on motorcycles.

SIZING: Helmets should fit as snug as possible without causing discomfort. Measure head circumference around the largest part of the head approximately one inch above the eyebrows and just above the ears. If a one or two layer Nomex hood will be worn with the helmet, it should be worn when measuring head circumference. If a hood is not available, add about 1/4 inch to the circumference measurement for a single layer hood and 1/2 inch for a double layer hood.

Simpson Speedway Shark Sizing Chart (SA2010 only)
Inches
20 3/4
21 1/8
21 1/2
22
22 1/4
22 3/4
23 1/8
23 1/2
23 7/8
Cm
53
54
55
56
57
58
59
60
61
Size
6 3/4
6 7/8
7
7 1/8
7 1/4
7 3/8
7 1/2
7 5/8
7 3/4