Enter desired order quantities below, then click the "Add selected quantities to cart" button.
Bell 280 SRV Helmet Shield for M2, M4, and BR1 (SA05)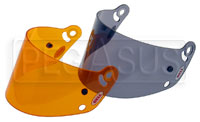 Fits late SA2005 Bell M2, M4, M4 Top Air, M4 Pro, BR-1, BR-1 Side Air, and Sport II Forced Air helmets with the SRV shield system. Bell reference number 280-SRV.

Bell introduced the SRV friction-lock system as a rolling change in 2005-06 on the SA2005 M4 and BR-1 helmets. Later SA05 versions of these models have the SRV system, but some of the early SA05 helmets have the original Bell Kam-Lok Shield detent system. The SRV shield has a smooth curved slot in front of the pivot. The Kam-Lok shield has a slot with three notches and takes a different shield.

Older M2, M2 Pro, M2 FA, M4, and M4 Pro helmets with the Kam-Lok detent can use this SRV shield with the addition of the Bell Kam-Lok to SRV Pivot Conversion Kit, Part No. 2239-010 (sold separately).