Enter desired order quantities below, then click the "Add selected quantities to cart" button.
Bell Anti-Fog Helmet Shield for HP3 / GP2 (SA05) Helmets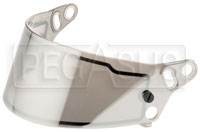 This unique shield uses the same construction as a double-pane window or ski goggles to prevent fogging. The inner shield is isolated from outside air, which reduces the chance of fogging. Fits the Bell GP2 Helmet (Snell SA2005 only) and HP3 (SA2005 and 2010). Bell Reference Number DSAF3 (SE3).

SAH2010 Bell GP.2 helmets use the 287 SRV Shield for Bell GP.2, GTX.2, Star GP, and Infusion Helmets (Part No. 2312-008).