Enter desired order quantities below, then click the "Add selected quantities to cart" button.
Bell Helmet Shield for Racestar III Helmet (.080 thick)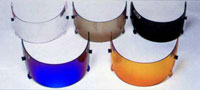 This .080" thick shield fits the Bell Racestar III and RS III helmets (Snell 1995 and 2000 rating). Bell Reference #280B. This shield is being phased out and replaced with the thicker .125" Thick Bell Helmet Shield, Part No. 2316 (Bell Ref #280).