Enter desired order quantities below, then click the "Add selected quantities to cart" button.
Tinted Base Tear-offs for XStack or Speedstack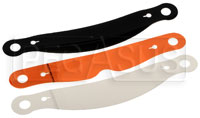 Rather than invest in several different face shields to deal with different weather conditions, many racers prefer to run a clear shield with a tinted layer under their tearoffs. Not only is this less expensive, it makes it much quicker and easier to change from one tint to another. It also takes up less space in your helmet bag.
These tinted shields from Racing Optics are as thin as a standard tear-off, so they don't compromise vision. They also install easily on your face shield just like standard tear-off shields. Sold in sets of 3 (each set includes three shields with the same tint).
Note that these tinted tearoffs are designed to be used individually, as a base layer under a stack of clear tearoffs. Never stack these tinted layers. We recommend using a small amount of tape on this layer to prevent accidentally tearing it off in the heat of battle.

Tinted Base Tearoffs Applications
Helmet
Manufacturer
Helmet Model
Part No.
Bell
All (except X-15 and 287SRV Shields)
2333-001
Bell
287SRV Shields only
2333-007