Enter desired order quantities below, then click the "Add selected quantities to cart" button.
Simpson Camlock H-Type Harness w/Sternum Latch, 75"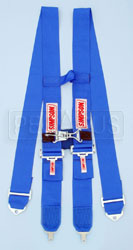 The Simpson Camlock Shoulder Harnesses are designed for use with the Simpson Camlock Lap Belt. The H-strap, which goes behind the seat, links the two shoulder straps together to prevent them slipping off the driver's shoulders. This configuration is recommended when the harness does not mount directly behind the driver. The extra Sternum Latch holds the shoulder harness together in front of the driver at the sternum, preventing the straps from pulling off the driver's shoulders and lessening the strain on the driver's chest in case of an impact. Straps are 3" wide. Available in black, blue, and red. Sold as a pair as shown in photo. Special Order only.