Enter desired order quantities below, then click the "Add selected quantities to cart" button.
Willans Silverstone LDV6 Saloon Harness, 3x3, FIA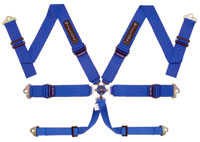 This item qualifies for FREE Shipping in the continental United States!
The Willans Silverstone LDV6 Harness is designed for sedans and sports cars. The dual sub straps connect to the buckle with a single narrow tab for easy, one-handed use.
The 3" wide lap belt features pull-up adjusters on both sides. The 3" wide shoulder straps feature lightweight aluminum "Silverstone" adjusters and an extra 3-bar slider to keep the belts together (or crossed over) if the belts are mounted more than 15" behind the driver. The 2" wide dual sub straps are connected to a single buckle tab, forming a Vee. All six mounting points include snap-in mounting plates and matching forged eyebolts (7/16-20 UNF threads). The camlock buckle is permanently attached to the right side of the lap belt. FIA 8853/98 approved. Available in Blue, Black or Red.

Shoulder belt length, from mounting bolt to adjuster: 11" to 57"
Shoulder belt overall length, maximum: 75"
Lap belt total length, maximum: 58"

Willans is the UK's largest manufacturer of competition seatbelts. Their harnesses can be found in everything from top ranking F1 cars to Formula Fords. All Willans harnesses feature military-specification polyester webbing, rotary camlock buckles, and FIA homologation.