Enter desired order quantities below, then click the "Add selected quantities to cart" button.
Simpson Latch 5 Way F/X System with Sternum Latch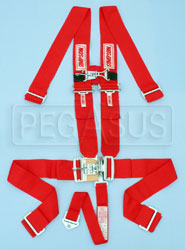 Simpson's Latch F/X buckle design incorporates the adjuster into the buckle assembly, reducing size and weight by 30%. Lap and shoulder belts are 3" wide with wrap-around mounts. The 2" wide sub strap is furnished with a bolt-in end plate. A specially modified sternum latch, which holds the shoulder harness together in front of the driver, is installed on the shoulder belts. SFI 16.1 approved. Available in black, blue or red.