Enter desired order quantities below, then click the "Add selected quantities to cart" button.
Simpson H-Type Latch & Link Shoulder Harness w/Sternum Latch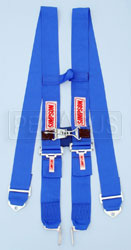 Length adjusts from 32" to 70". The sternum latch is a factory modification holds the shoulder harness together in front of the driver. An easy addition to standard Latch & Link seat belts.