Enter desired order quantities below, then click the "Add selected quantities to cart" button.
(H) SPA Replacement Slim Line AFFF Bottle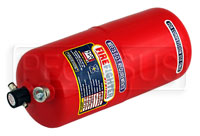 This item qualifies for FREE Shipping in the continental United States!
Picture shows Electric version complete with firing head.

Note: (H) = Hazardous. All pressurized fire suppression systems are considered Hazardous by UPS and other shippers. A hazardous shipping charge of $28.50 (ground shipping) or $40.00 (air shipping) will apply.