Enter desired order quantities below, then click the "Add selected quantities to cart" button.
(H) SPA Design Replacment AFFF Bottle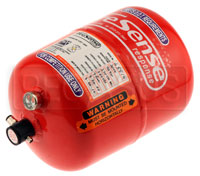 This item qualifies for FREE Shipping in the continental United States!
Keep a spare bottle on hand in case of accidental actuation of your on-board fire system. A spare bottle in the trailer means never missing a race because your on-board system is empty! Each bottle is filled with AFFF solution and pressurized to SPA factory specifications prior to shipping. 2.25 liter Electrical bottle shown in photo.

Note: (H) = Hazardous. All pressurized fire suppression systems are considered Hazardous by UPS and other shippers. A hazardous shipping charge of $28.50 (ground shipping) or $40.00 (air shipping) will apply.