Enter desired order quantities below, then click the "Add selected quantities to cart" button.
(H) SPA Slimline AFFF Fire Suppression System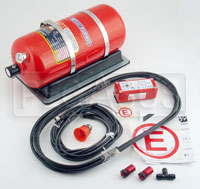 This item qualifies for FREE Shipping in the continental United States!
Complete system including 13 feet of Decarbon tubing, mounting bracket, connectors, and two nozzles. Mechanical systems measure 5 1/8" diameter by 14 5/8" long and include a 6 foot actuating cable. Electrical systems measure 5 1/8" diameter by 12 1/4" long and include a power pack, pushbutton activating switch, and electrical connectors. The electric system is shown in the photo.

Note: (H) = Hazardous. All pressurized fire suppression systems are considered Hazardous by UPS and other shippers. A hazardous shipping charge of $28.50 (ground shipping) or $40.00 (air shipping) will apply.