Enter desired order quantities below, then click the "Add selected quantities to cart" button.
(H) SPA AFFF Fire Suppression System, Refill & RE-Arm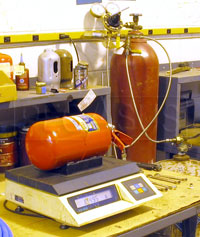 Pegasus is an authorized SPA refill center. AFFF systems must be inspected and recertified every 2 years. This service includes inspection of the bottle, dip tube, and firing head; refilling with SPA Lite AFFF fluid; pressurizing to factory-specified pressure with nitrogen; and FIA recertification if applicable. Additional charges may apply if replacement of firing head or other parts is required. We will contact you if any extra costs are required.
Note:
Bottles that are past their service date cannot be serviced (SPA and FIA requirement).
Bottles over 5 years old must be hydrostatically tested before service at an extra cost (DOT requirement).*
Bottles over 10 years old cannot be serviced (SPA and FIA requirement).
Bottles originally designed for gas (Halon / FE-36) or dry chem (powder) cannot be retrofitted with AFFF.

* We have found that the older bottle design with a single weld seam around the middle of the bottle fails the new hydrostatic test about 99% of the time. The newer bottles with a weld seam at each end have a much higher passing rate. If you have an older single-weld bottle, it is likely that the DOT will not allow us to refill it. In most cases, we have new replacement bottles in stock and ready to ship.

Please send your empty bottle to:

Ref: Order No. _______ **
Pegasus Refill Dept.
2475 S. 179th St.
New Berlin, WI 53146

** Please be sure to reference your Order No. which will be provided when you submit your Internet order.

Note: (H) = Hazardous. All pressurized fire suppression systems are considered Hazardous by UPS and other shippers. A hazardous shipping charge of $28.50 (ground shipping) or $40.00 (air shipping) will apply.



Sending Your Fire Bottle to Pegasus for Service