Enter desired order quantities below, then click the "Add selected quantities to cart" button.
OMP Tecnica Lady Drivers Suit, 3 Layer Nomex, FIA 8856-2000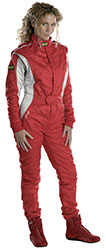 This item qualifies for FREE Shipping in the continental United States!
Save $100 on all existing stock. Originally $999.00, now $899.00

Finally, an off-the-rack driving suit designed to fit a lady race driver comfortably and safely! This FIA approved 3-layer Nomex suit has elastic bellows around the arms and at the back of the suit to provide added flexibility and ventilation. Box quilted. Available in Blue with contrasting sides and inner arm area in shiny Grey Nomex. Made in Italy.

OMP Tecnica Lady Suit Sizing Chart
Size
42
48
Chest
35" - 36"
39" - 41"
Waist
26" - 27.5"
31" - 32"
Hips
37.5" - 39"
42.5" - 44"
Thigh
(circumference)
21" - 22.5"
23.5" - 25"
Sleeve Length
22" - 23.5"
24.5" - 26"
Inseam
27.5" - 30"
30" - 32"
Shoulder Width
14" - 15"
16.5" - 17"
Back
(height from waist to neck)
15" - 17"
16.5" - 18"
Height
5' 1" - 5' 3"
5' 8" - 5' 9"
Weight (lbs)
110 - 120
145 - 155