Enter desired order quantities below, then click the "Add selected quantities to cart" button.
OMP First 2 Drivers Suit, 2 Layer Nomex, FIA 8856-2000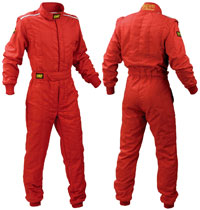 This item qualifies for FREE Shipping in the continental United States!
The First 2 Suit is one of the best priced FIA approved suits on the market today. You won't find a better value! The outer layer is matte (not shiny) Nomex III with an inner layers of soft knit Nomex. Knit bellows around the arms offer great flexibility and cooling. Understated vertical quilting in a matching thread color creates a solid, unbroken field for sponsor and series patches. The updated OMP logo has even been moved to the side of the belt to give you more room for driver's name embroidery. Available in Black, Blue, or Red, each with white piping on the shoulders. FIA homologated (8856-2000).

OMP Standard Suit Sizing Chart
Size
46
48
50
52
54
56
58
60
62
64
Chest
36"
37"
39"
41"
42"
44"
45"
47"
48"
50"
Waist
32"
33"
34"
36"
37"
39"
40"
42"
44"
46"
Hip
36"
37"
39"
41"
42"
44"
45"
47"
48"
50"
Height
5'2" - 5'7"
5'5" - 5'9"
5'7" - 5'11"
5'8" - 6'3"
5'10" - 6'2"
6'0" - 6'3"
6'1" - 6'6"
6'2" - 6'6"
6'4" - 6'7"
6'4" - 6'8"
Weight (lbs)
132-154
133-146
146-160
160-174
174-187
187-200
200-213
213-226
226-244
231-253