Enter desired order quantities below, then click the "Add selected quantities to cart" button.
Pro Vision Borescope Inspection Tool - 5.8mm/ .23" dia.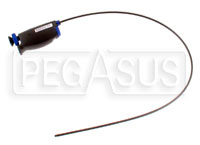 This item qualifies for FREE Shipping in the continental United States!
Now you don't have to tear down components at the track if you suspect a problem. Pro Vision Fiber Optic Inspection Scopes eliminate guesswork by allowing you to see inside your engine immediately to determine if a problem exists. A Pro Vision Scope could pay for itself the first time you use it!
This scope has a "non-obedient" 5.8mm / .23" diameter probe which remains flexible at all times. Standard features include a powerful 2.7v halogen lamp for clear viewing; an integrated focus ring for smooth, continuous focusing; and an ergonomically designed handle that permits a non-slip one-handed use. Lamp requires 2 AA batteries (not included).
Tip: This "non-obedient" scope can be made "obedient" by attaching a thin welding rod to the scope with heat-shrink tubing. The rigid welding rod will help the scope hold whatever shape you bend it into. You can always convert back by cutting off the tubing.

Accessory kit available separately:
Mirror, Magnet, and Bulb Kit for Pro Vision Borescope, Part No. 3136-012