Enter desired order quantities below, then click the "Add selected quantities to cart" button.
AP Lockheed LD20 Caliper (FF/FC), 1.75" Pistons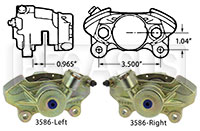 This item qualifies for FREE Shipping in the continental United States!
These cast iron calipers are commonly used on Formula Ford 2000 / FC cars but they are also found on the front of some FF1600 cars. These are new calipers, not rebuilt or remanufactured. Piston size is 1.75" diameter. Brake pads are not included.
The Right-hand definition assumes a trailing installation (caliper mounted behind the axle). A "Right" caliper can be installed on the left side in a leading installation (caliper mounted in front of the axle).

While supplies last! AP Racing no longer manufactures the LD20 caliper. Current stock on hand is the last available.