Enter desired order quantities below, then click the "Add selected quantities to cart" button.
SPA Design Center Mirror, Convex Lens - Carbon Fiber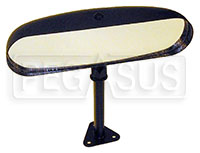 This item qualifies for FREE Shipping in the continental United States!
This great-looking center-stem mirror was designed for use on open sports racers, but its huge glass area and wide field of view have made it popular as a fender mirror on open and closed-cockpit sports racers. The convex glass lens measures 8 1/2" wide x 2 1/4" high. Mounting stem raises mirror 5" from the base. The shell is genuine carbon fiber construction, not a printed pattern on plastic.