Enter desired order quantities below, then click the "Add selected quantities to cart" button.
ShockWrench Kit for 2.062 x 16 tpi Thread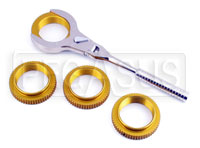 This item qualifies for FREE Shipping in the continental United States!
Never smash your knuckles again! The ingenious ShockWrench spring perch wrench positively locks onto the matching spring platforms, preventing injuries and frustration. Corner weights can be adjusted with the car still sitting on the scales - no need to lift the car. ShockWrench has a smooth ratchet mechanism and a special flexible head for easy adjustments. Each kit includes 4 special spring platform nuts to fit your shocks as well as the ratcheting flex-head ShockWrench. Replacement wrench (Part No. 5177) and Platform Nuts (Part No. 5178) available separately.

The platform nuts in this kit have a thread size of 2.062 x 16 tpi (V-form thread) to fit Penske 7500 and 8100 series shocks.