Enter desired order quantities below, then click the "Add selected quantities to cart" button.
OMP One Evo-K Karting Suit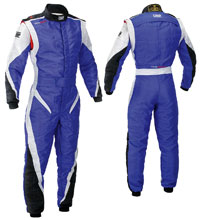 This item qualifies for FREE Shipping in the continental United States!
The OMP One Evo-K karting suit features precurved sleeves and knit panels around the arms to allow freedom of movement without bunching or binding. Special mesh panels in the shoulders and inside thighs aid ventilation. The shoulder epaulets act as intake scoops at speed, while a mesh panel across the top of the back lets air out. Available in Black with white trim, Blue with white and black trim, or Red with white and black trim. Each color has box quilting that matches the main suit color. Two layer suit, CIK-FIA 2001/90 Level 2 approved.

OMP Standard Suit Sizing Chart
Size
44
46
48
50
52
54
56
58
60
62
Chest
34"
36"
37"
39"
41"
42"
44"
45"
47"
48"
Waist
29"
32"
33"
34"
36"
37"
39"
40"
42"
43"
Hip
34"
36"
37"
39"
41"
42"
44"
45"
47"
48"
Height
4'11" - 5'2"
5'2" - 5'7"
5'8" - 5'9"
5'9" - 5'11"
5'11" - 6'0"
6'0" - 6'1"
6'1" - 6'2"
6'2" - 6'3"
6'3" - 6'4"
6'4" - 6'5"
Weight (lbs)
121-140
132-154
133-146
146-160
160-174
174-187
187-200
200-213
213-226
226-244