Enter desired order quantities below, then click the "Add selected quantities to cart" button.
Turbo Rotating Rain Visor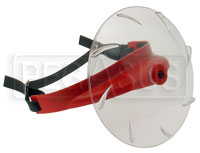 The Turbo Rain Visor is designed to keep a kart racer's face shield clean and clear during a rain race. No batteries or motors, the Turbo Visor is powered entirely by the wind. As wind pushes against the Turbo Visor, it spins, flinging rain water away. Adjustable strap fits most popular karting helmets.