Enter desired order quantities below, then click the "Add selected quantities to cart" button.
R3 Head and Neck Restraint for Formula Cars, Old SFI Date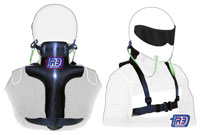 This item qualifies for FREE Shipping in the continental United States!
Regularly $999.00 - Now only $699.00 - You save $300.00!

Unlike other head and neck restraint systems that require seat belts to secure them, or a complicated series of uncomfortable harnesses, the R3 Head and Neck Restraint system is a simple lever arm which is strapped directly to the driver. This concept insures that the unit will stay with you during multiple angle impacts. Having the system travel with you during a crash has proven to reduce the impact loads to the neck during violent, whipping actions. Once fitted, the sturdy carbon fiber design is so thin and light you hardly know it's there. Each unit comes complete with helmet attachment hardware, quick-release lanyards, contoured seat pad and complete instructions for easy do-it-yourself installation.

The Formula version is for seat back angles of less than 65 degrees (measured from horizontal, just below the height of the shoulder harness).

Remaining stock available in Medium and Large only. The Medium adjusts to fit chest sizes 36 to 42", and the large adjusts from 42 to 48" (measured below the pectoral muscles). SFI-38.1 certified. These devices are marked down because the SFI tags have expired. Simpson offers a recertification service not included in the cost of this device (contact Simpson directly for details).

Have more questions about the R3 Head and Neck Restraint System? Check our R3: Frequently Asked Questions.