Enter desired order quantities below, then click the "Add selected quantities to cart" button.
HANS Device Nomex Pad Cover Kit, Specify Color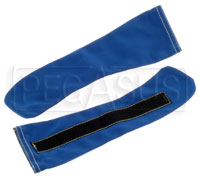 These woven Nomex pouches cover the shoulder padding of your HANS Device. Attaches to your device with hook-and-loop fasteners. Set of two covers (one set required for each HANS Device). This kit does not inlcude the padding.

We also offer the complete HANS Device Foam Padding and Cover Kit (Part No. 9589-050), which includes these covers as well as the pads.