Enter desired order quantities below, then click the "Add selected quantities to cart" button.
Model 30 HANS Device, Pro Series, Sliding Tethers, LW2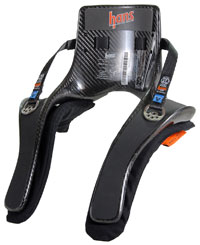 This item qualifies for FREE Shipping in the continental United States!
If you are like most racers, you probably put your helmet on and take it off without ever disconnecting your HANS® Device. If so, you can save weight and bulk by completely eliminating the anchor posts on your helmet! The LW2 system uses the same mounting position, but instead of a spring-loaded post that accepts a buckle on the tethers, a single screw holds each end of the tether directly to the helmet. This attachment is meant to be permanent. No quick-release mechanism is provided. The Vision Advantage Plus sliding tether system allows you to turn your head for maximum field of vision and flexibility.

The HANS Model 30 is designed for most layback seats in formula cars and sports racers. Some very barrel-chested drivers in sedans may also find the Model 30 more comfortable than the more upright model 20. The Professional series is constructed of high-modulous carbon fiber for light weight (approximately 1 pound lighter than the Sport series) and includes the Vision Advantage Plus sliding tethers, black contour padding, two LW2 helmet anchors, and full installation instructions.

To determine the correct size, measure your neck and follow the chart below.


| | | |
| --- | --- | --- |
| Neck Size* | 13.5" to 17" | 16" to 20" |
| HANS Size | Medium | Large |
*
Drivers with highly developed neck and trapezius muscles may require one size larger than their neck size alone would indicate.