Enter desired order quantities below, then click the "Add selected quantities to cart" button.
Inline Fuel Filter, Plastic, 1/4" Push-On Fittings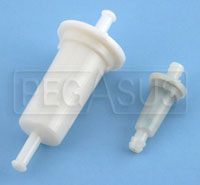 These inline plastic fuel filters are perfect for racing karts with 4-cycle engines. The fine nylon mesh element allows fuel to pass through with less restriction than paper filters. We offer two sizes, both with barbs on the inlet and outlet for 1/4" ID fuel hose.
The Large size measures 3.75" overall with a 1" diameter x 2 3/8" long body (maximum diameter 1 3/4").
The Small size measures 2.125" overall with a 1/2" diameter x 1 1/4" long body (maximum diameter 1").
These filters are not designed to be disassembled. Sold individually.

We also offer a Walbro-Style Inline Fuel Filter for 2-stroke kart engines (Part No. 9876-Walbro).