Enter desired order quantities below, then click the "Add selected quantities to cart" button.
Bridgestone Dry Racing Kart Tire (specify compound & size)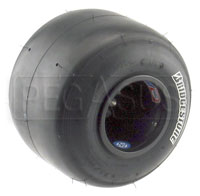 With over four decades of racing experience, it's no wonder that Bridgestone racing tires have found their way into just about every class of motorsport competing today. Because of their track record and outstanding quality, we here at Pegasus are proud to offer these tires to our karting customers. We can also mount your new kart tires.
Note: These are all tubeless, slick (non-treaded) tires for sanctioned kart racing on paved tracks. We do not carry tires for yard karts.

The YHC, YJL, YKB, YKC, YLB, and YLC compounds are all medium-grip tires, specified for use in many local, regional, and national karting series across the US.
The YJB provides a much higher level of grip, and is specified for use in several premier national-level classes in both 2-cycle and 4-cycle racing.
The YDS is a harder compound, popular as a spec tire for many classes and clubs across the country.

At this time we are stocking only 5" diameter tires.