Enter desired order quantities below, then click the "Add selected quantities to cart" button.
Clearance Jones 3 inch Tachometer with Telltale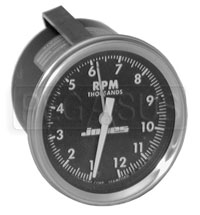 This item qualifies for FREE Shipping in the continental United States!
Regularly $519.00 - Take this one for only $477.00 - You save $42.00!

This 10,000 RPM 4:1 mechanical tachometer is brand-new, but it has some very light scratches in the lens. You have to examine the lens closely to spot them. They will not be noticeable at speed.