Enter desired order quantities below, then click the "Add selected quantities to cart" button.
Clearance OMP Short Sleeve Nomex Underwear Top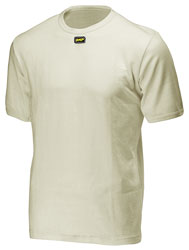 Regularly $79.00 - Now only $59.25 - You save $19.75!

All underwear is brand new - there is just a slight discoloration due to UV exposure.

If your race sanctioning body does not require fire-retardant long underwear, you may be tempted to wear a cotton T-shirt under your driver's suit. This Nomex® short-sleeve shirt from OMP is a much more comfortable alternative, plus it provides another layer of protection that cotton can't match. Not FIA or SFI rated. Short-sleeve top fits like a T-shirt with a standard crew neck.

OMP Nomex® Top Sizing Chart
Order
Size
Chest
Size
Small
34-36"
Medium
37-39"
Large
40-42"
XLarge
43-46"
XXLarge
47-50"