Enter desired order quantities below, then click the "Add selected quantities to cart" button.
Simpson Camlock H-Type Shoulder Harness, Old Date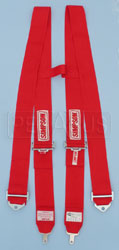 The Simpson Camlock Shoulder Harnesses are designed for use with the Simpson Camlock Lap Belt. The H-strap, which goes behind the seat, links the two shoulder straps together to prevent them slipping off the driver's shoulders. This configuration is recommended when the harness does not mount directly behind the driver. Straps are 3" wide.

Save on these brand new, but back-dated belts from Simpson. Use these belts in your street car, autocross car, hot rod, boat or any other application that does not require a current date code.

Current stock on hand only -- this item will not be backordered. If you need more belts in this style, we have the same Simpson Camlock H-Type Shoulder Harnesses with current SFI tags.