Enter desired order quantities below, then click the "Add selected quantities to cart" button.
Latch & Link Snap-in Lap Belt, 27"-55", Pull Down, Old Date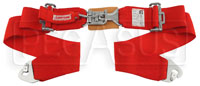 Regularly $89.99 - Take this one for only $59.99 - You save $30.00!

Save on these brand new, but back-dated belts from Simpson. Use these belts in your street car, hot rod, boat or any other application that does not require a current date code.

Current stock on hand only -- this item will not be backordered. If you need more belts in this style, we have the same Simpson Lap Belts with current SFI tags.