Enter desired order quantities below, then click the "Add selected quantities to cart" button.
(H) Clearance OMP Replacement Aluminum Bottle, 2.8 M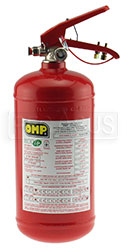 Regularly $299.00 - Take this one for only $179.00 - You save $120.00!

This is a replacement bottle only for the original (to 2012) OMP 2.8L AFFF Fire System, Part No. 2465-010. Steel bottle comes complete with mechanical actuating head and tubing connector. It is filled with AFFF and pressurized prior to shipment so it is ready for use.

*Be advised that these bottles are being clearanced due to their dates, and not for any damage or defect.

Note: (H) = Hazardous. All pressurized fire suppression systems are considered Hazardous by UPS and other shippers. A hazardous shipping charge of $28.50 (ground shipping) or $40.00 (air shipping) will apply.