Enter desired order quantities below, then click the "Add selected quantities to cart" button.
(H) Clearance OMP Replacement Aluminum Bottle, 2.8 E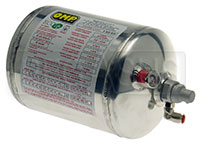 This item qualifies for FREE Shipping in the continental United States!
Regularly $640.00 - Take this one for only $199.00 - You save $441.00!

This is a replacement end-valve bottle only for the OMP 2.8L AFFF Fire System, Part No. 2465-003. Aluminum bottle comes complete with electrical firing head and tubing connector. It is filled with AFFF and pressurized prior to shipment so it is ready for use.

*Be advised that these bottles are deeply discounted because of their dates of manufacture, and not for any damage or defect. FIA rules require fire bottles to be retired after 10 years.

Note: (H) = Hazardous. All pressurized fire suppression systems are considered Hazardous by UPS and other shippers. A hazardous shipping charge of $28.50 (ground shipping) or $40.00 (air shipping) will apply.