Enter desired order quantities below, then click the "Add selected quantities to cart" button.
Clearance OMP Nomex Underwear Top, Long Sleeve, FIA Approved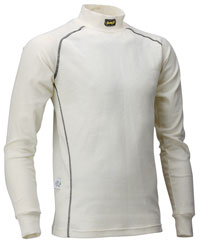 Regularly $119.00 - Now only $89.24 - You save $29.76!

All underwear is brand new - there is just a slight discoloration due to UV exposure.

Nomex® undergarments provide a dramatic increase in protection when worn with a driver's suit. Flame resistant underwear and socks are required by many race sanctioning bodies. This long sleeve top from OMP is made of a very comfortable single layer of soft knit Nomex®. This is not the rough "waffle weave" fabric. Flat-sewn external seams add to comfort. The side seams have even been moved towards the front to avoid pressure from racing seats. Top features long sleeves and a mock turtleneck. Natural (off-white) only. FIA 8856-2000 homologated.

OMP Nomex® Top Sizing Chart
Order
Size
Chest
Size
Small
34-36"
Medium
37-39"
Large
40-42"
XLarge
43-46"
XXLarge
47-50"