Enter desired order quantities below, then click the "Add selected quantities to cart" button.
(HAO) 10oz. Can of Refrigerant for Porta Cool System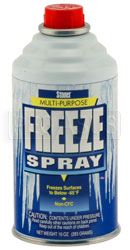 Refill can of environmentally-friendly refrigerant for the Cool Shirt Porta-Cool System (Part No. CS479). This can plugs into the Porta-Cool adapter to connect to your Cool Shirt.
It takes a little practice and patience to keep from emptying an entire can before the race is over. The most common mistake is holding down the spray button continuously until you feel a chill. This system is meant to take the edge off of the heat, not to make you cold. If you give just one or two quick (1- to 2-second) blasts per lap, one can will keep you cool for an entire 30-minute sprint race.

Note: (HAO) = Hazardous, Air only. This item is considered Hazardous by UPS when shipped by air (3 Day Select, 2nd Day Air, or Next Day Air). A hazardous shipping charge of $40 will apply if shipped by air. This item cannot be sent via US Mail.