Enter desired order quantities below, then click the "Add selected quantities to cart" button.
Cool Shirt 2Cool Water-Cooled Compression Shirt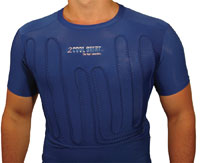 This item qualifies for FREE Shipping in the continental United States!
The new 2Cool water-cooled shirt from Cool Shirt is designed to hold the tubing closer to your skin for more effective cooling. Instead of a regular-fitting T-shirt, the 2Cool is a moisture-wicking compression shirt. Blue only.

Note: This is a compression shirt, which means it will be VERY tight-fitting. It will not fit like a regular T-shirt does. Compression shirts are intended to squeeze you tightly. If you prefer the more relaxed fit of a regular T-shirt, we recommend the Cool Blue Shirt, CS403.