Enter desired order quantities below, then click the "Add selected quantities to cart" button.
Cool Shirt Cool Water Compression Pants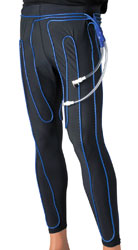 This item qualifies for FREE Shipping in the continental United States!
The Cool Water Pants are the first water-cooled pants from Cool Shirt. They are tight-fitting compression pants designed to hold the tubing tightly to your skin for the most effective cooling. The moisture-wicking material is available in blue only.
Cool Shirt recommends using the Cool Shirt Y-Hose (Part No. CS476, sold separately) to connect these pants and your shirt to the cooler independantly. This results in better, more even cooling than running the water through the shirt and then through the pants, or vice versa.

Cool Water Pants Sizing*
Waist Size (inches)
28
32
36
40
44
48
Pants Size
Small
Medium
Large
X-Large
XX-Large
XXX-Large
* Please note: These are compression pants, which means they are designed to fit very tightly!