Enter desired order quantities below, then click the "Add selected quantities to cart" button.
Facet Cylindrical Style 24 Volt Fuel Pump, 6 to 8 max psi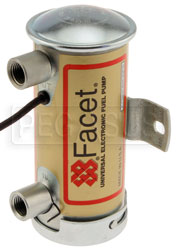 This solid-state cylindrical style fuel pump runs on 24 volts for marine applications. Maximum fuel delivery 33 gallons per hour at free flow. Maximum pressure 6 to 8 psi. Typical flow 15 gph @ 2 psi. 1/4 NPT female ports. Reliable solid-state construction means no points to burn out. This pump features an internal 74 micron filter and an anti-siphon valve to prevent the tank from draining when the pump is turned off.

Not sure if this is the pump you need? Check out our article on Finding the Part Number on Facet Fuel Pumps.