Enter desired order quantities below, then click the "Add selected quantities to cart" button.
Ferodo Brake Pad, Formula Atlantic, AP Racing (CP2372)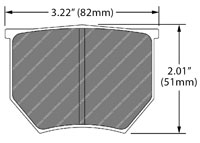 Fits AP Racing 2-piston "Escort rear" calipers (CP2382 and CP2383). AP Racing pad shape CP2372D52*. These calipers were popular on the rear of some vintage Formula Atlantic cars.
* Note that Ferodo eliminates the tab "handle" on the top edge of the backing plate. AP lists the overall height with the tab as 2.6" (66mm), and the width minus the side tabs at 3.0" (76.3mm).

2459 Compound: A racing compound for larger formula cars and sports racers (BSR/CSR). The medium temperature range (maximum 1200° F) makes it suitable for cars up to 1800 pounds. Sticky tires are recommended to take advantage of the high friction level.