Enter desired order quantities below, then click the "Add selected quantities to cart" button.
PFC Brake Pad, F3000, Group A Rally, AP/Lockheed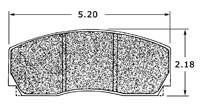 These pads fit several models of AP/Lockheed calipers, including CP3307, CP3395, CP3620, CP3720, CP3788, CP3789, CP3799, CP4219, CP4890, CP5000, CP5200, CP5830, and SC430. 20.3mm thick. Typical applications include Group A Rally, Rallycross, and F3000 / FA.

80 Compound was the first Carbon Metallic® race material from Performance Friction. A favorite for many applications where pedal modulation is difficult, and brake balance or chassis set-up requires a more forgiving pad.

While supplies last -- this item will not be backordered. See PF767 when this pad sells out.